Bronchales, "The balcony of Spain""
Bronchales, my town, is known as "The balcony of Spain" because it is located at 1,600 metres above sea level on the northern slope of the Sierra de Albarracín (Spain). It is one of the highest areas of the Iberian System, and covered by pine trees , junipers, maples and oaks.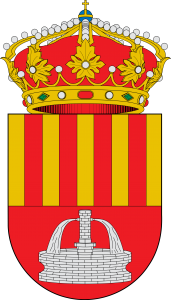 Its inhabitants are characterized by being the longest living in Spain, reaching an average of 91 years old. Could this be due because of the lack of contamination in this area? A mystery…
By the way, almost every single Spaniard knows about the bottled mineral water from Bronchales. The origin of this water is in my town and due to its extraordinary natural sources, it is of great quality and very healthy.
As an animal, I am part of the traditional Spanish proverbs, highlighting that I am a delicacy: "Everything from the pig is delicious, even when it is walking ". This way of expression in the Castilian language has been recorded for centuries. Example of this is in one of the main books of classical literature, "El libro del buen amor" (s. XIV), a fantastic example of this Spanish tradition.
And finally, I am also one of the main characters together with Javier Bardem and Penélope Cruz in their first film encounter, "Jamón, Jamón", by Bigas Luna (1992). This was the beginning of a well-known romance between two Spanish actors who enjoy a great international recognition.